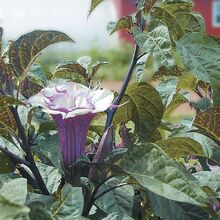 Darjeel is a plant which grows in temperate climates. Known for its distinctive white flowers with dark purple edges, the leaves can be harvested and turned into a powerful hallucinogenic drug.
One of the hallmarks of darjeel use is watering eyes, caused by irritation when the drug is inhaled in powdered form. The leaves can also be chewed, smoked, or ground into a paste and the liquid strained for use in mist flutes. The resulting hallucinations are extremely intense and often render the user immobile.
The use of darjeel is considered highly dangerous, as it can drive people insane. It is illegal in many countries, though it is also used in divination rituals.