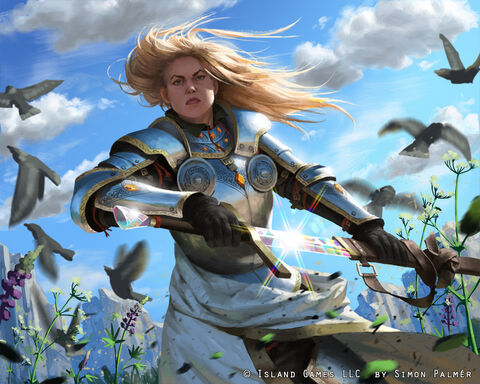 Exekian steel, also known as the divine metal or Exekian silver, is a metal alloy containing iron and Exekian blood. It is known for its anti-magical properties.
While rare, esoteric, and prone to breaking down with age, weapons made of Exekian steel have been in use for millennia. In modern times, they are most commonly associated with paladins. When incorporated with the rituals and prayers of the paladins, Exekian steel can cut through curses, exorcise unholy spirits, purify an object or location, and even disrupt the powers of magic users.
History
The Exekians were the first to create weapons using their blood, which they gave to humans so that they could defend themselves from malicious spirits, sorcerers, and witches. Historically, the paladins trace their origins to the first paladins, who were taught and tasked by the Exekians in ancient times with guarding themselves against supernatural evil.
In the aftermath of the fall of the Exekian Empire, fears arose that there would be a shortage of Exekian steel. The city of Hiberia infamously maintained the illegal practice of slavery, keeping Exekians as chattel to be bled regularly. Others, such as the Dardani, would raid Exekian settlements, capturing them in order to sacrifice them to make more steel. The Zantines also participated in this lucrative trade, buying Exekian captives from the Dardani for the purpose of harvesting their blood. Other groups of humans, particularly the Iskirrans, chose to embrace magic instead, incorporating it into their society.
The young paladin Leonard Gorrister took steps to reform the practice of using slaves to obtain the blood. Upon returning to his homeland of Amarna to establish a new paladin order there, he set up a secret trade route with the Exekians in the shadowlands, providing goods and services in exchange for a steady supply of blood for the making of new weapons. Because the blood was willingly given, it was said that the resulting alloy was stronger, more durable, and had an exceptionally potent effect on magic compared to steel made from the blood of slaves and sacrifices.